My Son Sanctuary Sunrise Private Tour from Hoi An
Contact
Time :
Departure day :
Vehicle :
INTRODUCTION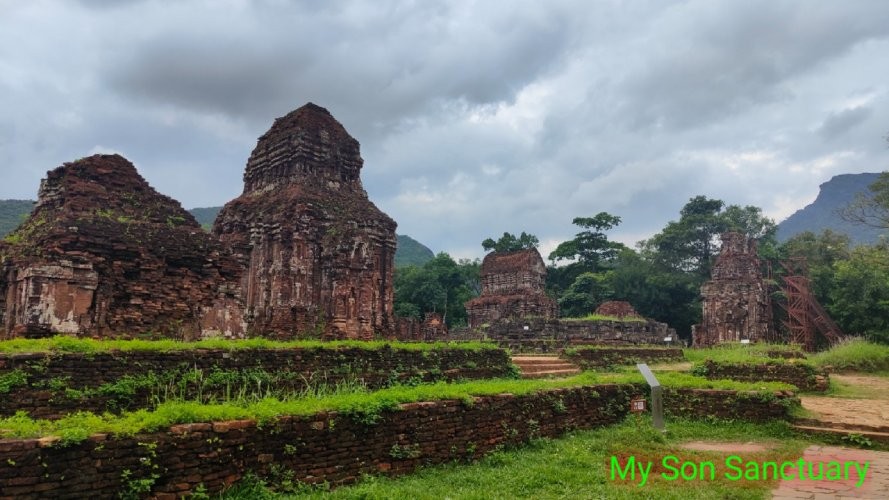 Participating in this My Son Sanctuary Sunrise Private Tour from Hoi An, you may discover the beauty of the mysterious My Son Holy Land Vietnam early in the morning. Adding an interesting part in this tour will also allow you to get away from the throng of people and breathe in some fresh air. You will also get a great chance to take some stunning pictures.
In addition, UNESCO has designated My Son Sanctuary Vietnam, a popular tourist destination in Quang Nam province, as a World Heritage Site. It is around sixty kilometers to My Son Holy Land from the Hoi An ancient town. It also provides proof of the existence of the ancient Champa Kingdom culture. With its distinctive architecture built from the fourth to the thirteenth centuries, My Son Sunrise Tour from Hoi An is definitely worth visiting.
LOCATION OF MY SON SANCTUARY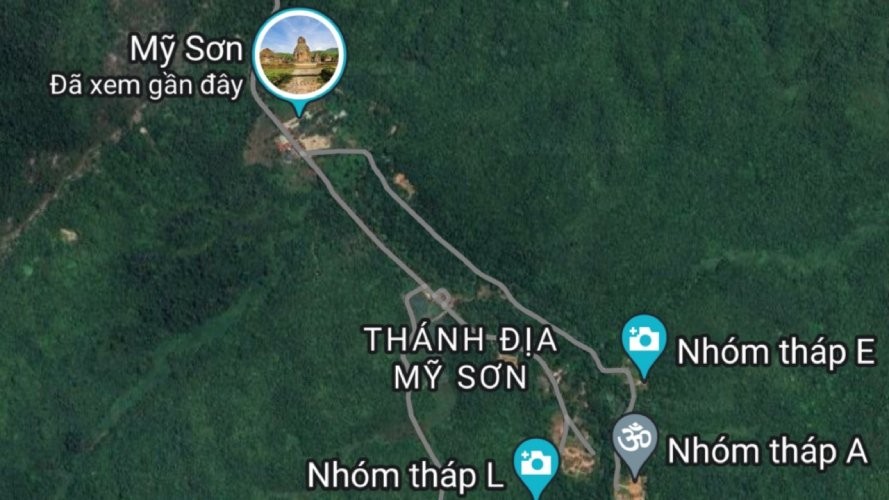 https://www.google.com/maps/place/M%E1%BB%B9+S%C6%A1n/@15.768782,108.119315,1649m/data=!3m1!1e3!4m6!3m5!1s0x314200815555551f:0x8baa2869b9f687b!8m2!3d15.7687821!4d108.1193154!16zL20vMDRsYmhf?hl=vi&entry=ttu
TOUR FACTS
Distance:
Departure time:
Duration:
Meeting points:
HIGHLIGHTS OF THIS TRIP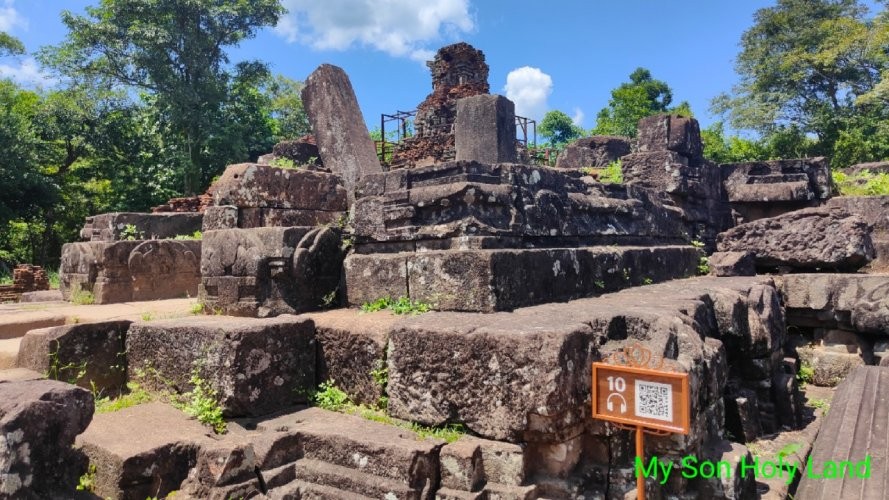 The serene dawn over the historic Hindu temple complex heralds the start of an amazing trip that is guaranteed by the My Son Sanctuary Sunrise Tour. You'll be enveloped in the magical atmosphere as the gentle early light caresses the verdant valley, encircled by remarkably intact temple ruins ornamented with elaborate sculptures and carvings. In addition to offering historical context, knowledgeable guides captivate audiences with tales about the heritage of the Champa Kingdom and the spiritual significance of My Son.
Your journey becomes a cultural odyssey as you gain a deep appreciation for Vietnamese traditions and rituals associated with this sacred site. Amid this captivating backdrop, you'll have the perfect opportunity to capture the ethereal beauty of the temples and the surrounding jungle in breathtaking photographs. The early morning visit ensures a tranquil, crowd-free exploration, allowing you to fully absorb the rich history and the challenges of preserving these UNESCO World Heritage Sites. With the My Son Sanctuary Sunrise Tour, you'll create cherished memories and gain a profound understanding of Vietnam's heritage.
MY SON SANCTUARY SUNRISE TOUR ITINERARY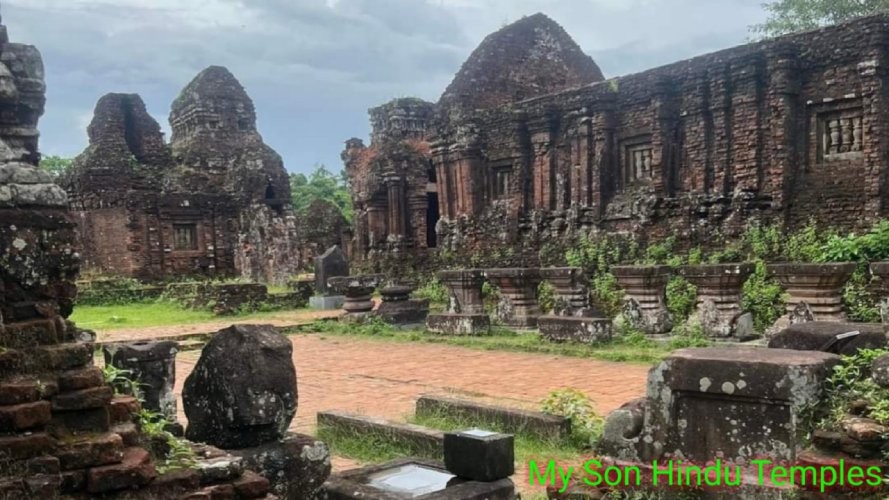 At 5:30 a.m, the guide will come to meet you up then we transfer you to My Son Sanctuary to commence our My Son Sunrise Tour from Hoi An. Our local guide will take you to the early-morning fish market of Thanh Ha village on the way to My Son Holy Land. This is also a fantastic location to learn about the fishermen's rustic way of life in Hoi An.
6:45 a.m Upon reaching here, we then take a walk and get golf cart transfer to the site. Thus, you will be walking with our knowledgeable guide finding more about the Champa culture. Through intensive knowledge of the tour guide, you will understand more of the Cham culture, especially you will find out the special techniques used by the Cham in gluing all bricks together.
Thus, My Son Holy Land has a cluster of more than 20 temples and towers built during the Cham dynasty from the 4th to the 13the centuries. The main temples in My Son Complex are dedicated to Shiva God which is Supreme God in Hindu culture. The highlights of this tour is to sightseeing the most intact groups in My Son with three groups of B,C,D.
Next, the guide will escort you to visit group A which is the biggest one in My Son Sanctuary. Following the trip is to sightseeing group G and E,F respectively.
As we are walking through, you will gradually delve deeper into the distinctive and exceptional building methods used in the temple. In addition, you can discover how the prehistoric Cham people made the bricks and the type of mortar they employed to bind them together.
End the trip is to head back to the parking lot. From here, our guide and driver will transfer you back to Hoi An and drop you off at the hotel. Hence, our My Son Sanctuary Sunrise Private Tour from Hoi An is coming to an end here. Phong Nha Pioneer Travel wish you have a great time with us.
WHAT CAN YOU EXPECT?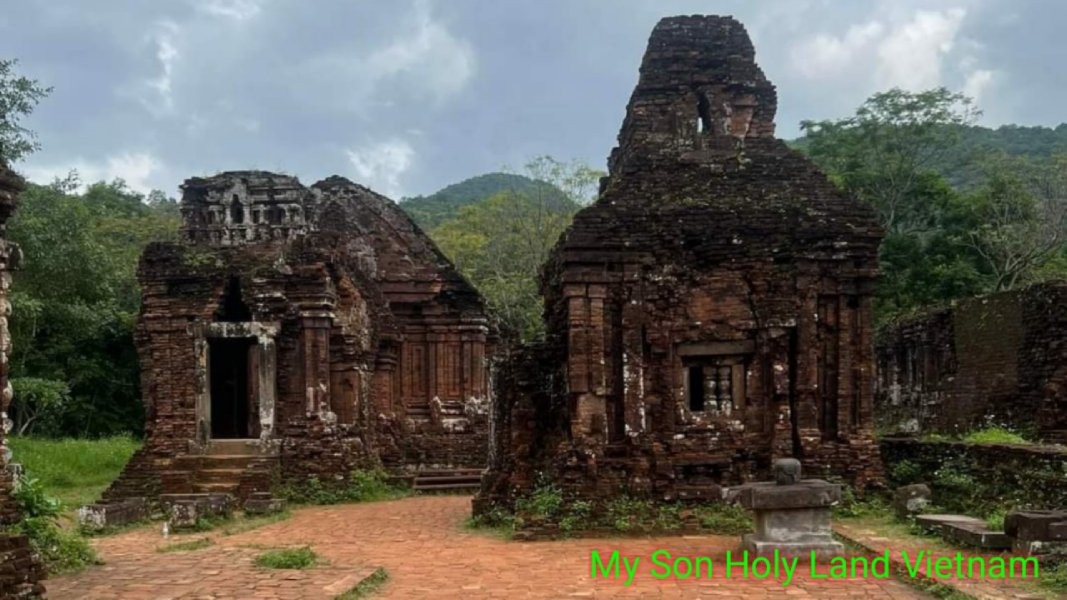 Breathtaking Scenery and Nature Exploration
My Son Sanctuary Sunrise Private Tour from Hoi An offers spectacular sunrise views over the Hindu Temples, creating a magical and picturesque setting that you will cherish. In addition, you seem to be lost in a dense jungle forest and enjoy more of the nature
Cham's Cultural Exploration
Stroll through the historic site of My Son Sanctuary, you can explore its amazing architecture, and gain insights into the local culture of Cham people. Since then, you will understand more of Hinduism in Vietnam.
Rich History
Learn about the challenges of preserving these historic sites and its recognition as a UNESCO World Heritage Site. Furthermore, you will know the connection between the Champa Kingdom and Dai Viet in the past as well as the integration of Hinduism in the country.
Avoid the crowd
Being in this trip, you can enjoy stunning nature and avoid the crowd in the morning. Thus, your photo chances are endless.
PRICE, TOUR INCLUSIONS, TOUR EXCLUSIONS, THINGS TO BRING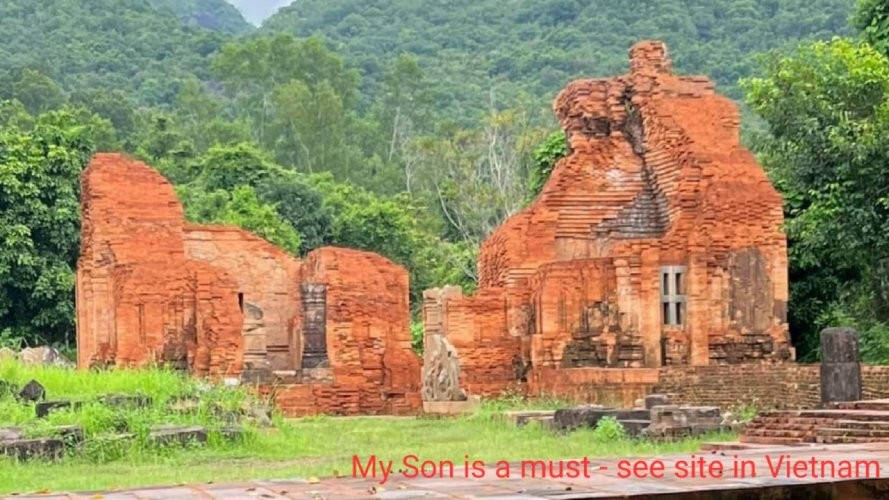 Price
In order to get the best quote for My Son Sanctuary Sunrise Tour from Hoi An, let's contact Phong Nha Pioneer Travel, send an email to phongnhapioneer@gmail.com or whatsapp us at +84 979613777 for more details and assistance.
Included
Private car with air conditioner
English tour guide
Cold water and wet tissues
Entry tickets to My Son Sanctuary
Excluded
Travel insurance
Personal expenses
Tipping for guide and driver
Others not mentioned in the itinerary
Things to bring
Full charged camera
Caps/Hats
Sun glasses
Insect spray
HOW TO BOOK THE TRIP?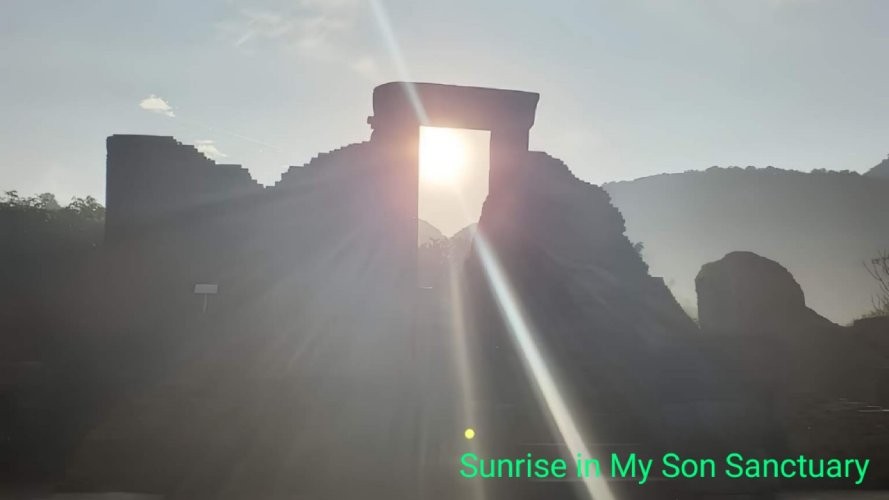 If you are in Hoi An Ancient town and would like to do My Son Sanctuary Early Morning Tour, kindly contact us at whatsapp +84 979613777 (Mr. Viet) or send an email to phongnhapioneer@gmail.com for further assistance. Or you can log into our website at https://phongnhapioneer.com/ for more details. We will make the best trip with long – lasting memories.
FREQUENTLY ASKED QUESTIONS (FAQs)?

Question (Q): How long does it take to get My Son Sanctuary from Hoi An?
Answer (A): My Son Hindu Temples is around 40 kilometers south west of Hoi An and it will take an hour by private car to get there.
Q: What to see in My Son Holy Land?
A: My Son was the main religious Hindu temple complex by the Cham people in the past. Hence, it has many groups of Hindu temple structures and you will visit the remain of the complex such as group B, C, D, G, E, F and A.
Q: Is My Son Sanctuary worth a trip from Hoi An?
A: Absolutely. My Son Sanctuary was listed as the World Cultural Heritage of Vietnam in 1999 and it is a great chance to see it from either Hoi An or Da Nang city. Coming here, you not only know the Hinduism in Vietnam but admire the talent of Cham's artisans as well as finding how the temples still remain after thousands of years.
Q: Can I hire the car to get there without tour?
A: Yes. Phong Nha Pioneer Travel offers the private car with English speaking driver so you can book the journey with us.
Q: Is My Son Sanctuary suitable for children?
A: Yes. Children take part in this trip will know about the history of Champa civilization and it adds more interesting parts in their studies. In addition, they can enjoy traditional performance to know much more the daily life of Cham people.
Q: What's the best time to visit My Son Holy Land?
A: In the dry season, you might book My Son Sanctuary Sunrise Private Tour from Hoi An to avoid the heat and big crowd in My Son. Moreover, you can get some best pictures without anybody and enjoy fresh air of the jungle. In the wet season, you can start the trip around 8:30 – 9:00 a.m from Hoi An but you should take ponchos or umbrellas with you. Importantly, let's check the weather forecast to get well prepared for this adventure.