WHY CALL BA NA HILL?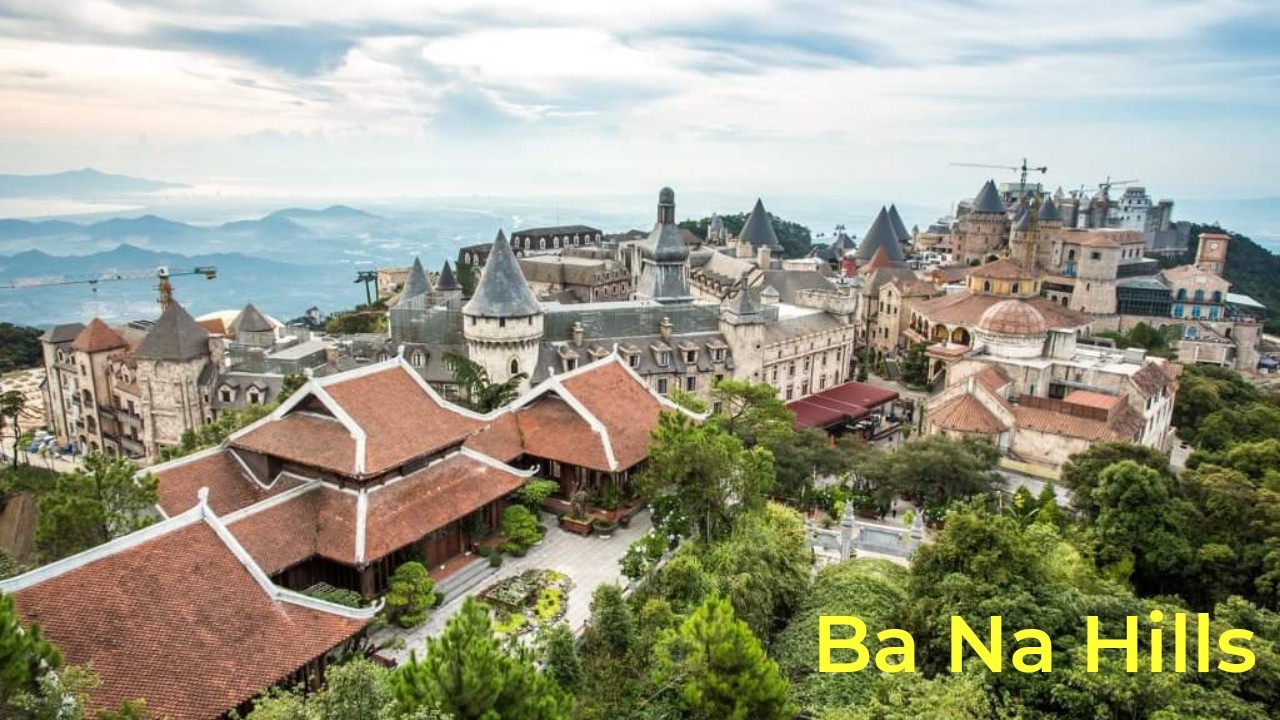 Records show that a French captain by the name of Debay discovered Ba Na in 1901. He plans to transform this area into a retreat for French commanders and troops.
The officer nicknamed this mountain Bana after seeing a lot of banana trees (meaning banana). Since then, the term "Ba Na" has grown increasingly well-known.
WHERE IS BA NA HILL?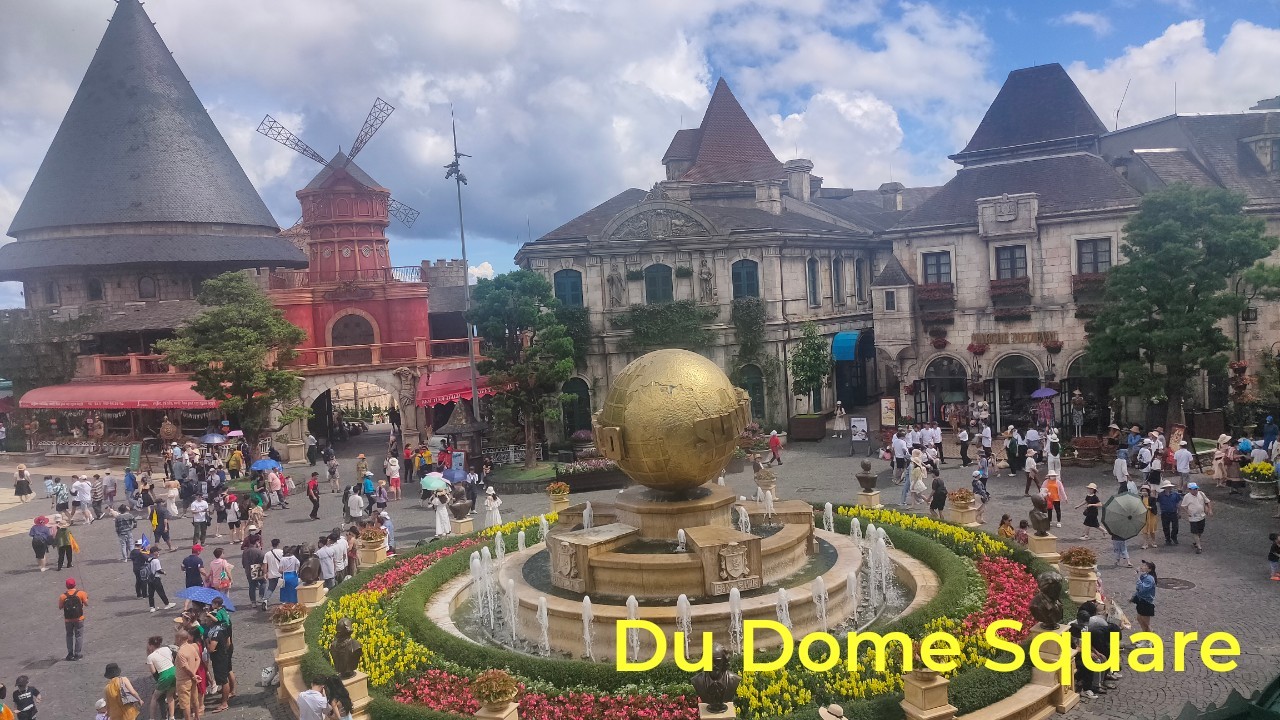 Ba Na Hills are situated in the Truong Son mountain range in the Hoa Vang district of Da Nang, about 25 km to the east of the Hoa Vang rice field and 25 kilometres to the southwest of the city center. The Ba Na Hills were once a forestry protection area with a very active ecosystem. The Da Nang City Committee formally gave Sun Group the rights to invest in and develop Ba Na Hills in 2007; since been Ba Na Hills have been developing into one of the famous tourist spots in Da nang city that you must visit.
WHY MUST VISIT BA NA HILL DA NANG?
ENTERTAINMENT HUB: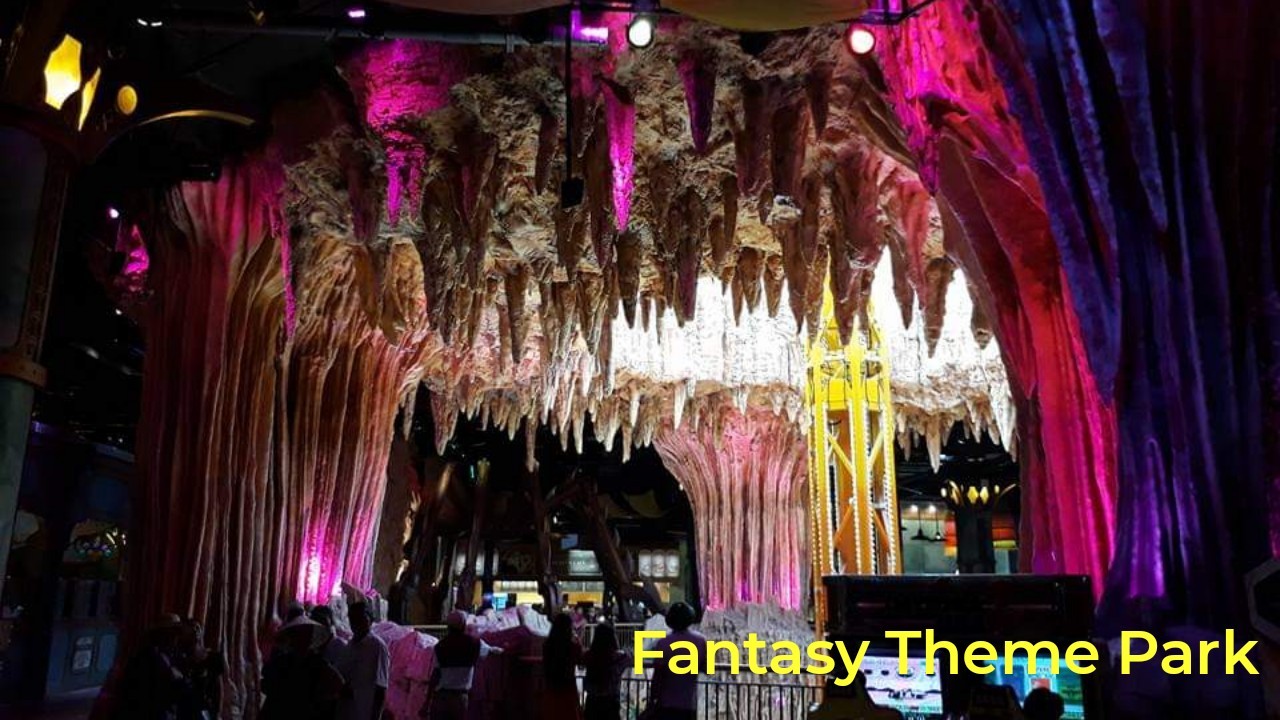 This is Vietnam's biggest indoor amusement park, so if you travel to Da nang with your children, you should not miss Ba Na Hills as it is the ideal playground for your kinds to spend a day in addition to some historical city tours.
DIVERSE NATURE: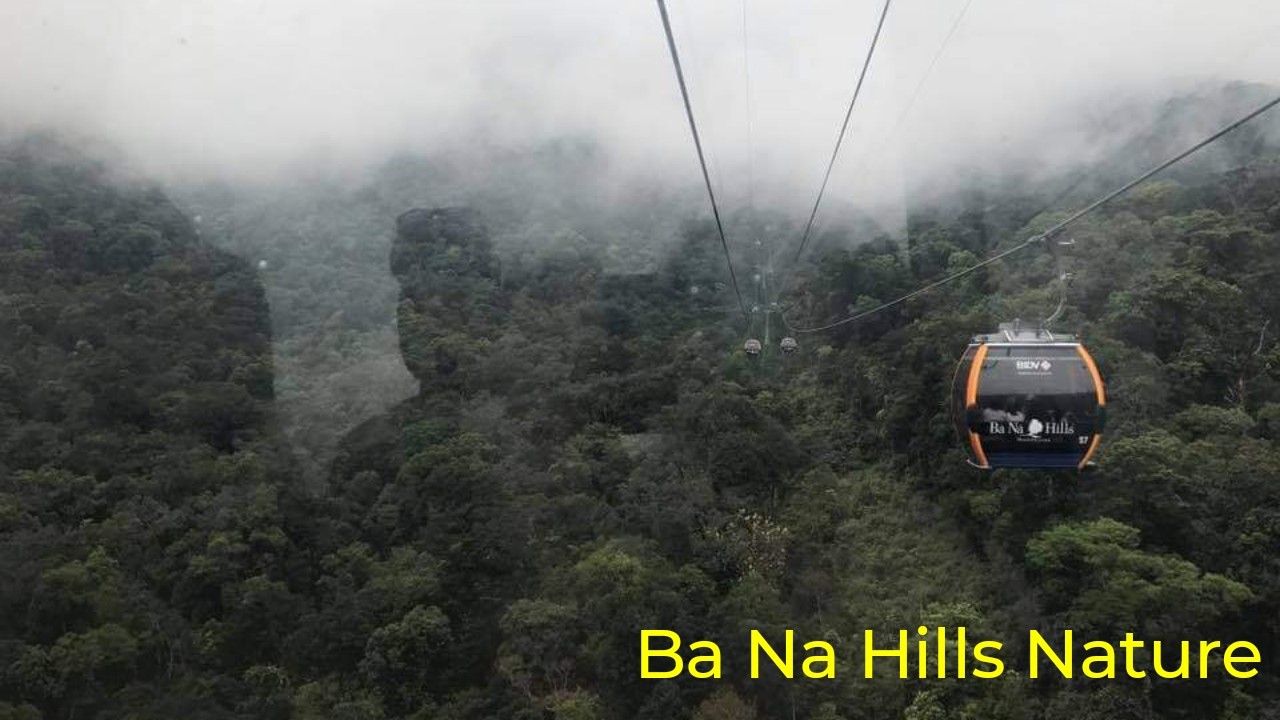 Because it was constructed on the foundation of a National Forest Reserve, the most notable in the Ba Na Hills can be referred to as a vibrant natural system.
With 136 families, 379 genera, and 543 different kinds of plants, including 251 rare medicinal plants, this area has an incredibly diverse flora. In addition, 256 species of animals live in the Ba Na Hills, including 61 wild mammal species, 178 bird species, and 17 reptile species.
VIETNAM'S MODERN CABLE CAR SYSTEM: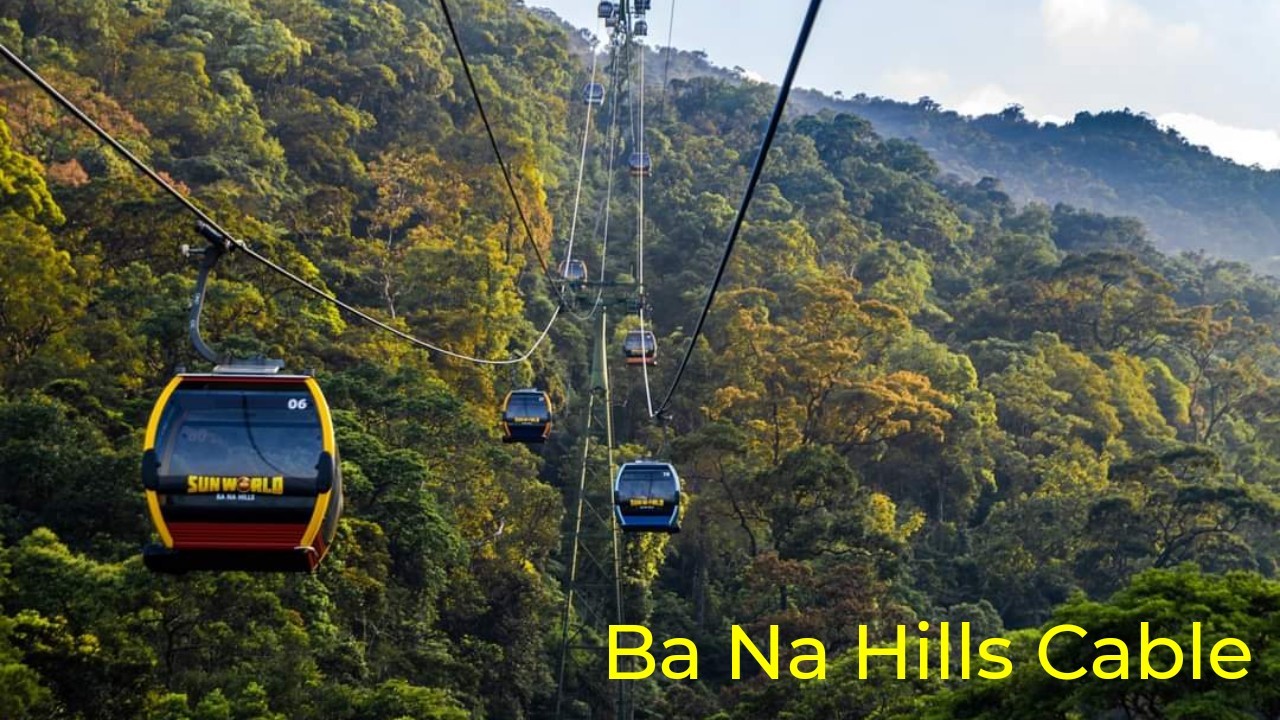 The Ba Na Hills cable car is known as "the world's longest single-wire cable car route" and "the highest cable car route in the world" by the World Guiness Book of Records due to its length of more than 5,042m and height of more than 1,291m. The biggest distinction in the world exists between upper and lower stations.
OPERATION TIME AND TICKET PRICE OF BA NA HILL DA NANG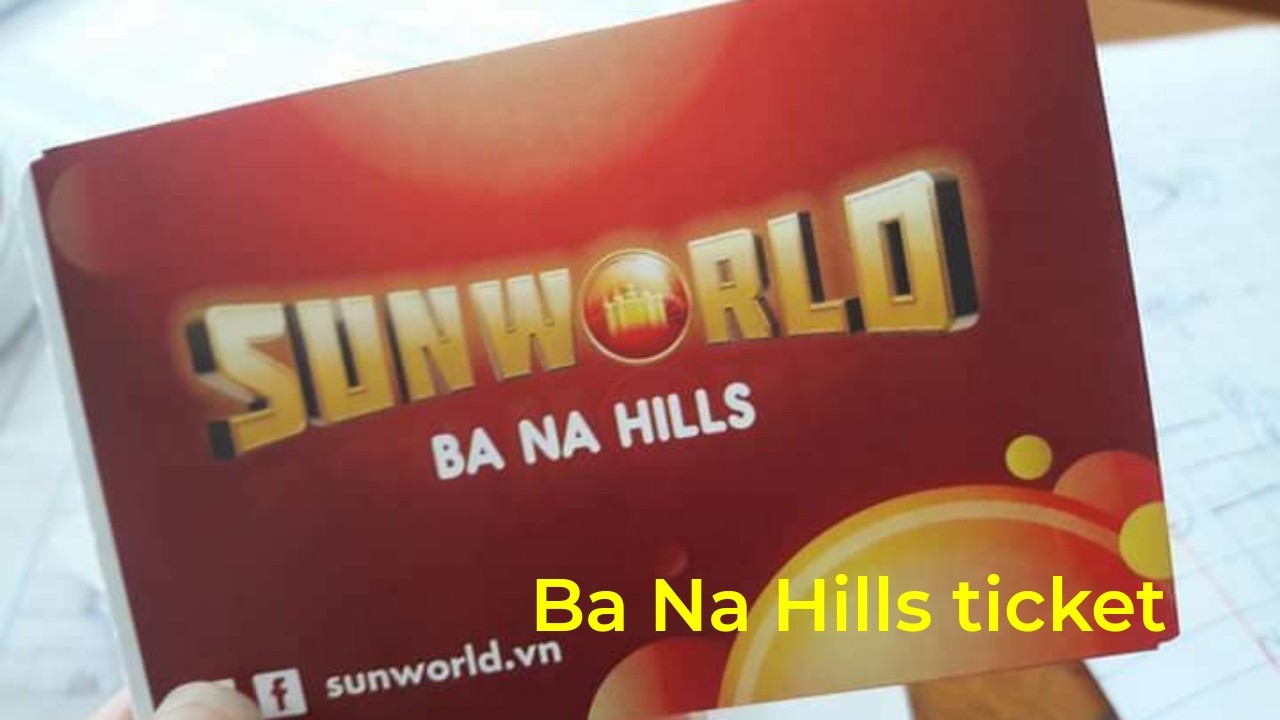 OPERATION TIME:
Hours of operation: from Monday to Sunday, 08:00-21:00 daily.
Address: An Son Village, Hoa Ninh Commune, Hoa Vang District, Da Nang City, Vietnam.
Hotline: +84 905 766 777
TICKET PRICE:
Applied from June 1, 2022 till September 30, 2022
Applied from October 1, 2022 till December 31, 2022
For non – Da Nang citizens
Adult price: 1.050.000 VND

Children: 1m – 1.4m: 800.000 VND

Adult price: 950.000 VND

Children: 1m – 1.4m: 750.000 VND

For Da Nang's citizens
Adult price: 750.000 VND

Children: 1m – 1.4m: 550.000 VND

Adult price: 650.000 VND

Children: 1m – 1.4m: 550.000 VND
THINGS TO SEE IN BA NA HILL DA NANG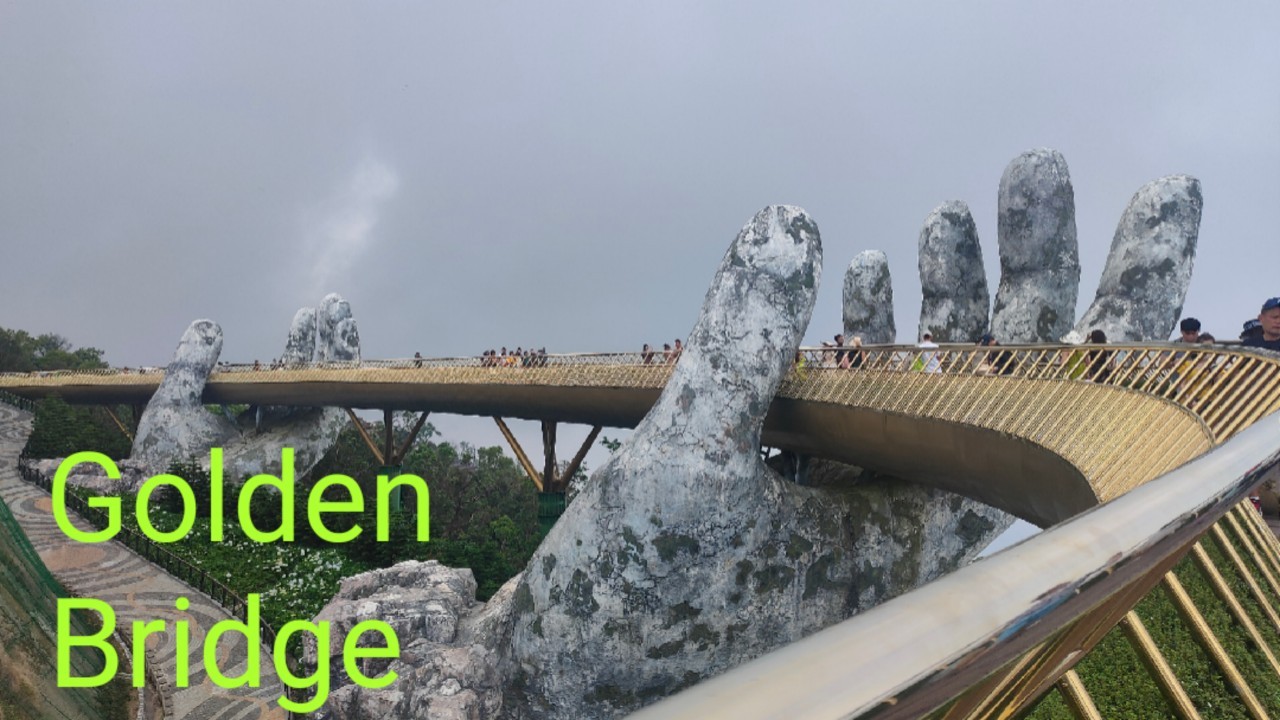 GOLDEN BRIDGE:
This renowned Golden Bridge, which is 150 meters long and situated directly in the midst of the mountain at a height of more than 1400 meters above sea level, was built to serve as a pedestrian promenade connecting Marseille station with Thien Thai flower garden. The architects' inspiration for a bridge supported by a god's hands came from the fanciful beauty of Ba Na Mountain.
Standing with your hands at your sides, you can see the stunning city of Da Nang and the ancient forest that stretches off into the distance. The scenery near the Golden Bridge transforms into something magnificent and dazzling on days with white clouds and fog.
LINH UNG PAGODA: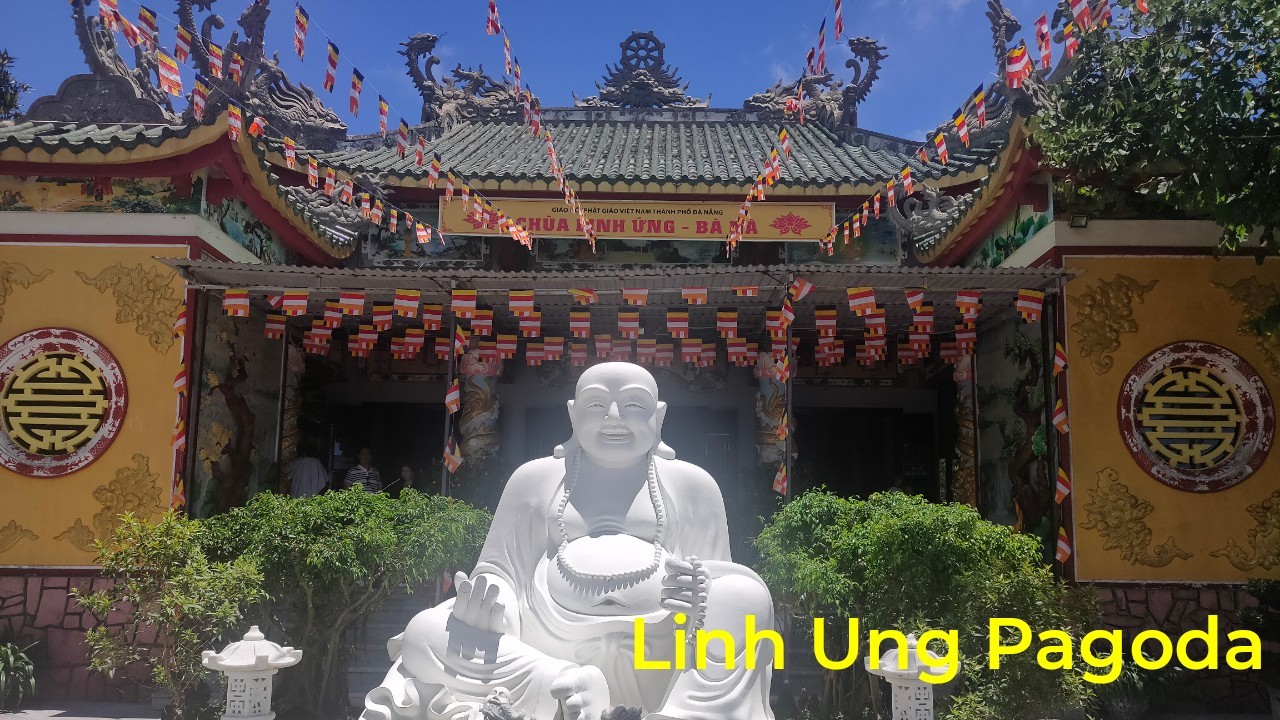 One of Da Nang's holiest pagodas features a 27-meter-tall statue of Shakyamuni Buddha that is quite special. Visitors that come here will be enveloped in a serene and spiritual environment while taking in the magnificent natural surroundings, observing the massive countryside below, and taking in the vast white clouds.
WINE CELLAR DE BAY: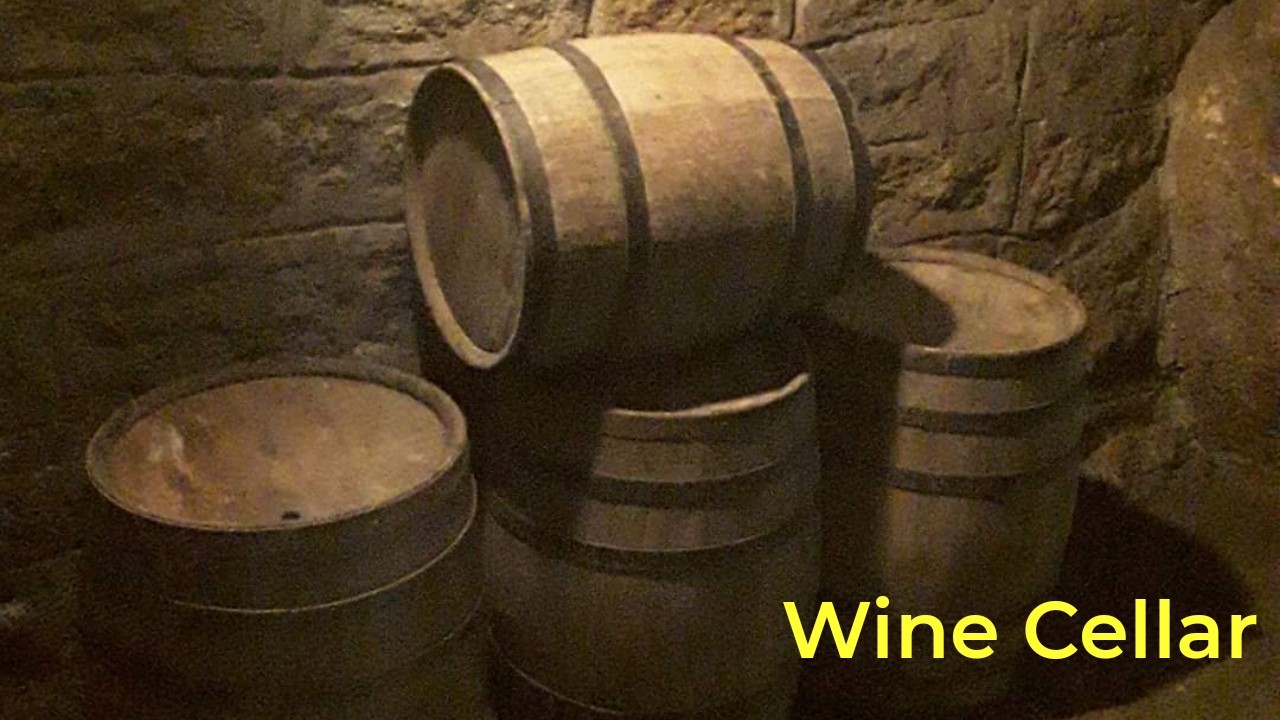 Debay Cellar, erected in 1923, is a reminder of France's historical use as a location for the preservation of fine wine and affluent entertainment. With a temperature range of 16–190°C, the 100–m-long, 2.5-m-high underground structure is sufficient for holding 14 large and small wine holes.
FLOWER GARDEN LE JARDIN D'AMOUR: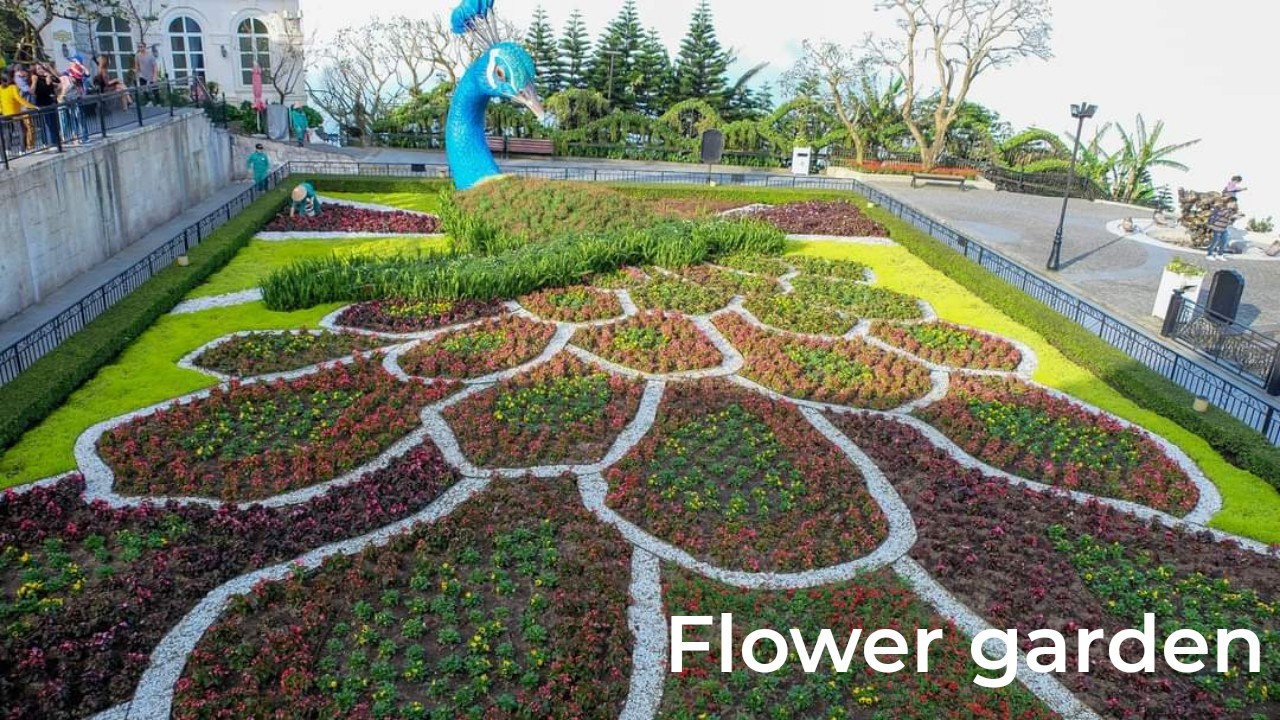 Le Jardin D'amour, a romantic flower garden designed in the manner of well-known European flower gardens, is more than 8,206 square meters in size and features a wide variety of flowers that create an atmosphere of richness and value that is reminiscent of a vivid fairy tale.
FANTASY PARK ENTERTAINMENT CENTER:
In Ba Na Hill Da Nang, travelers can visit the lively Fantasy Park, which was inspired on the French author Jules Verne's books "Journey to the Center of the Earth" and "Twenty Thousand Miles Under the Sea." As in many other resorts or theme parks, there are thrilling and enjoyable activities for kids, but there are also quite unique skill games and winning games for visitors here. travel.
FRENCH VILLAGE: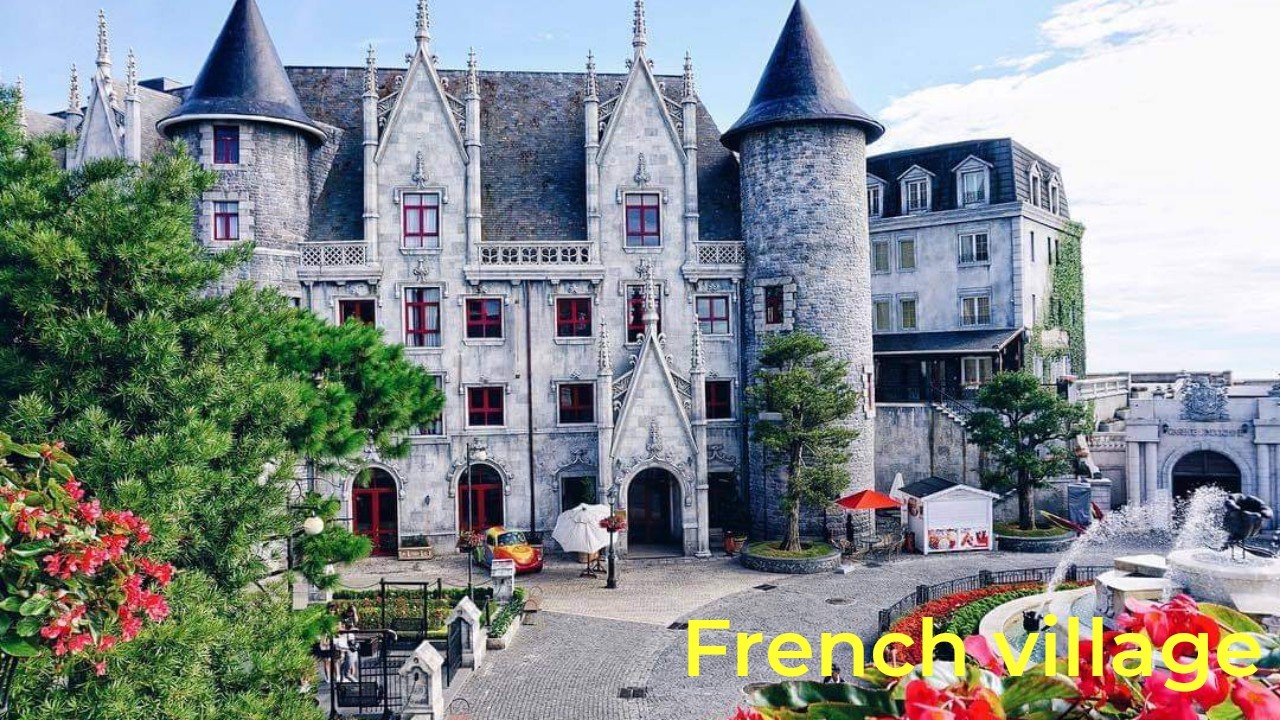 The pointed roof buildings with a European classic offer French Village, represents a small Paris capital in the center of Da Nang, a very strong impact on visitors. Additionally, there are frequently occurring street art performances by foreign artists that transport viewers back in time to ancient France to enjoy the manner of life.
LINH CHUA LINH TU TEMPLE:
Linh Chua Linh Tu, at an elevation of 1,400 meters, is situated at the summit of Chua mountain and is a place of worship for three Ladies who are credited with greatly establishing and defending the boundaries of Da Nang city. Right in the middle of the main hall is Ba Thien, who specializes in overseeing matters pertaining to Heaven, followed by Ba Thuy, also known as Ba Thoai, who is in charge of overseeing sea creatures, and finally, Ba Chua Thuong Ngan, who had the greatest contribution to the creation of the modern city of Da Nang, on the side to the left.
SOME FESTIVALS IN BA NA HILL DA NANG
FLOWER FESTIVAL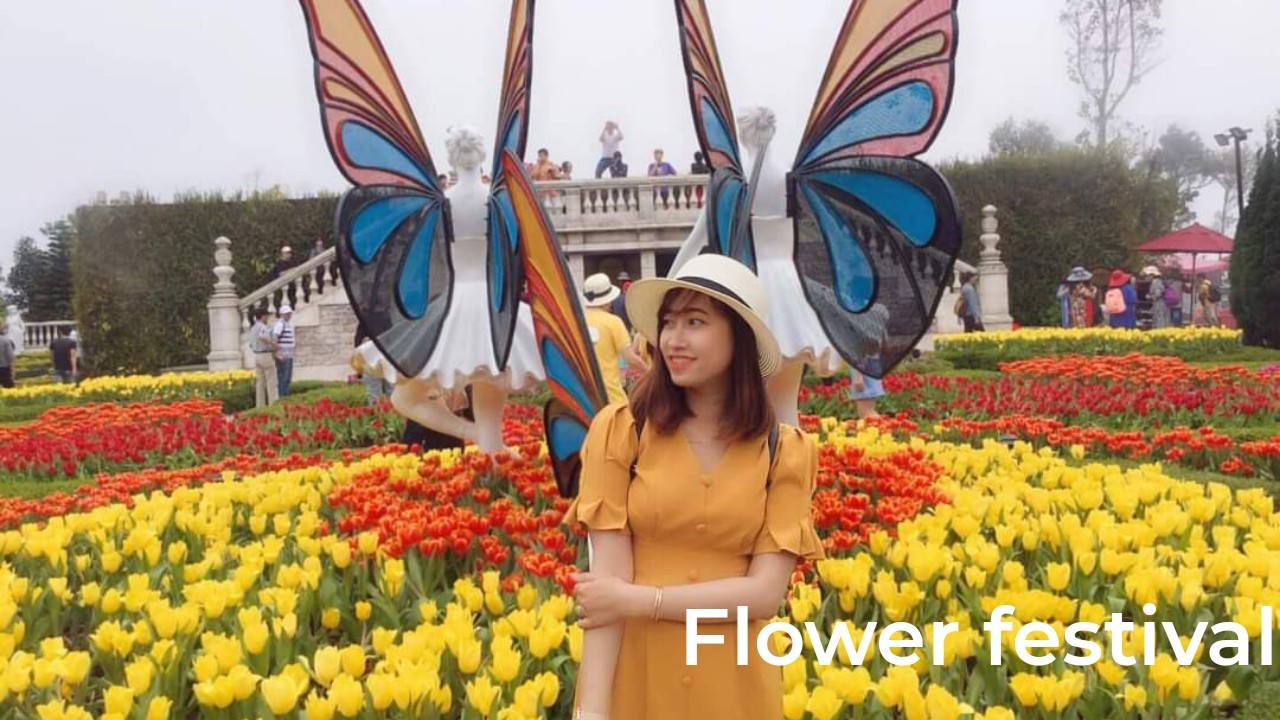 The flower festival typically takes place in the spring (every year in February or March), when hundreds of flowers are in bloom and trees are beginning to sprout. Attending this event will allow you to completely appreciate the beauty of the surrounding landscape and experience what it's like to get lost in a land of glistening and vivid flowers. A large area, from the alleys of beautiful cherry trees to the tulips, chrysanthemums, peach blossoms.
BEER FESTIVAL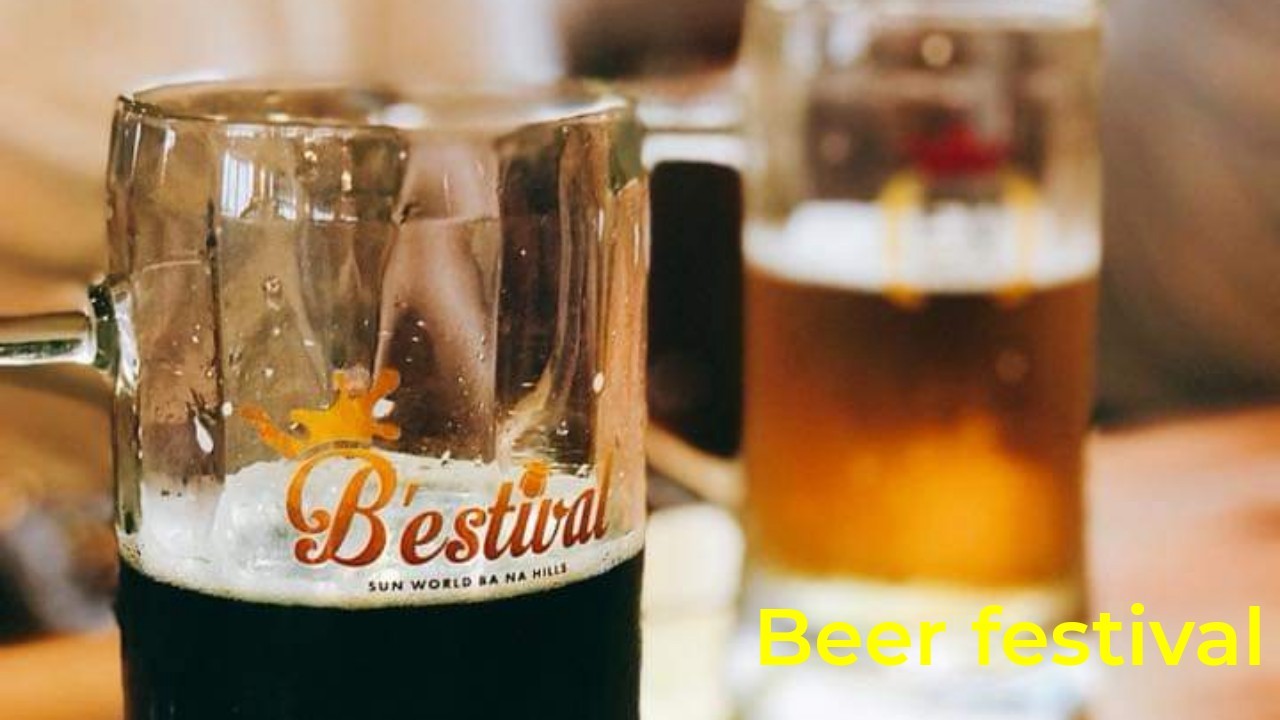 The B'estival beer festival, which takes place from June until the end of September, is so well-known that it has become a household name among travelers. According to a traveler's account at Ba Na Hills, the 3.6 m tall, eye-catching crafted enormous beer glasses during the festival will undoubtedly overwhelm you. Additionally, 200 international artists will present original art acts while dressed in traditional Oktoberfest garb. Free beer, German sausages, salty bread are all available to guests.
STREET CARNIVAL FESTIVAL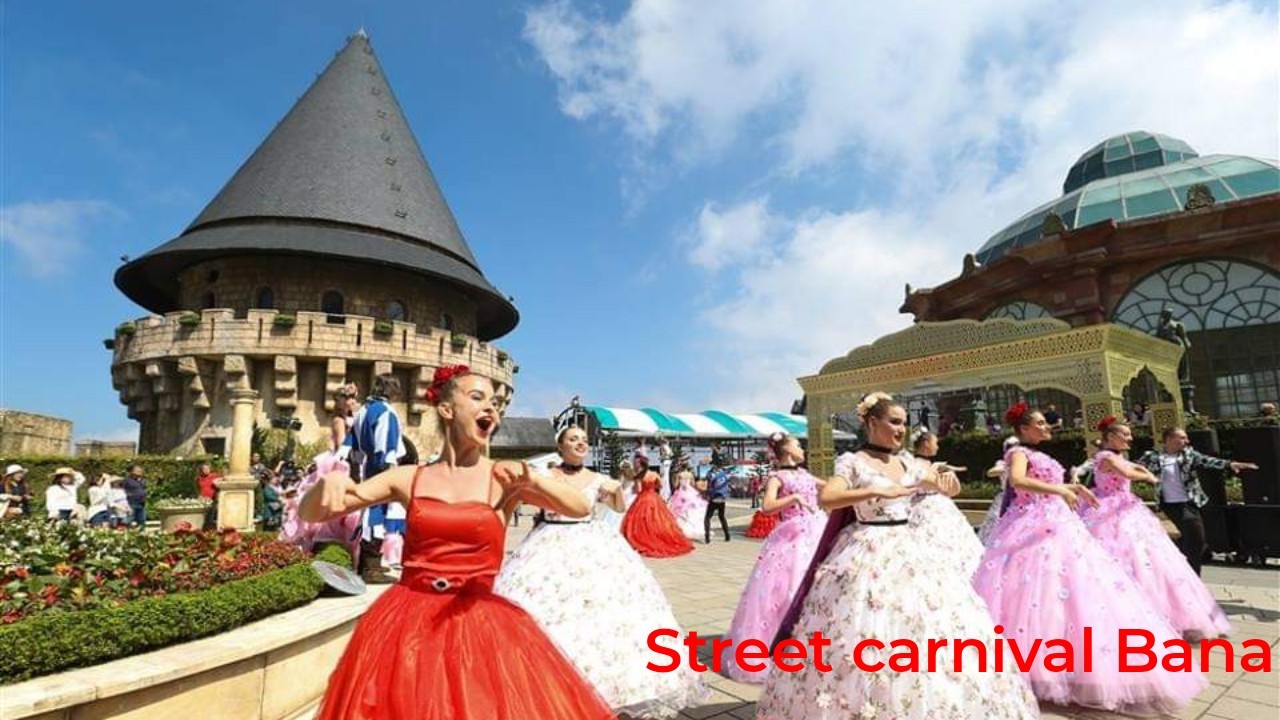 Carnival is a special and enjoyable festival that is a part of the Ba Na Hills festival series. This street event typically occurs from the end of April to the beginning of September. It has its roots in a staged narrative about the future robot army's voyage through time. The stunning princess Alisa of the Sun World Ba Na Hills realm was captured.
WINE FESTIVAL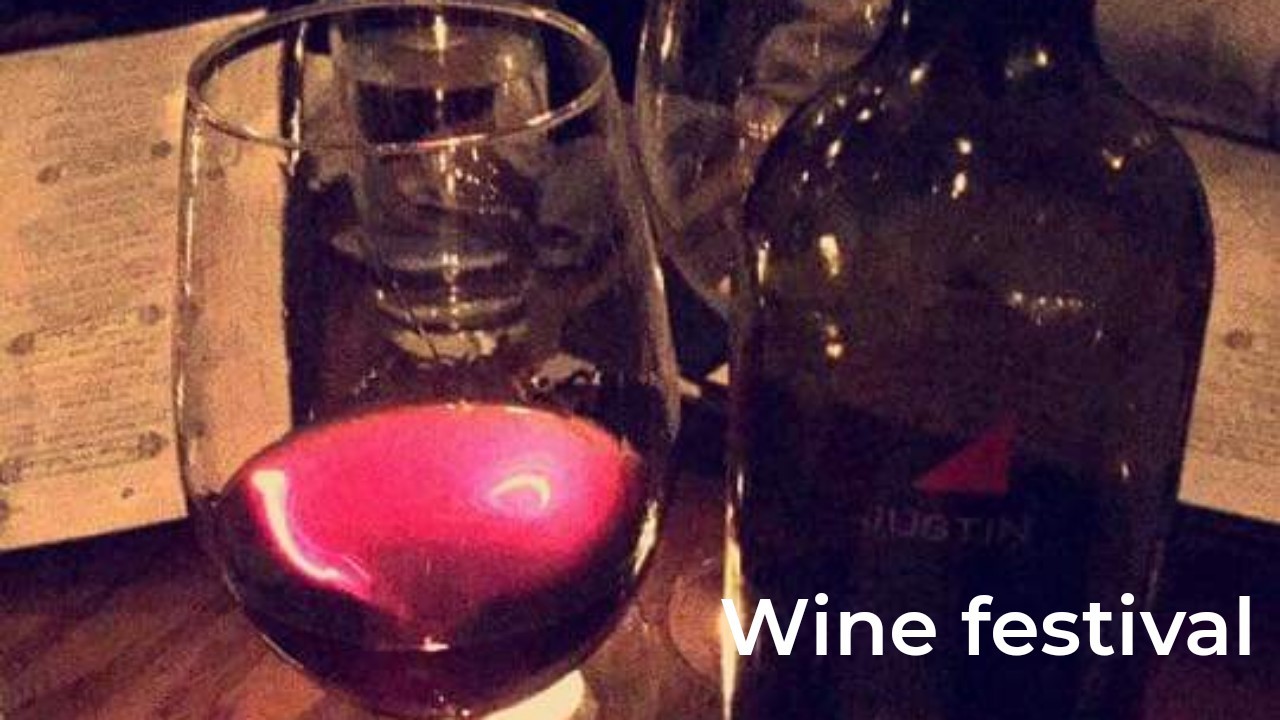 There is also a special wine festival, as a great gift for those who have a passion for wine. Coming to Ba Na in May and attending this festival will not disappoint you. You can admire the unique performances performed by artists from Europe. Enjoy a complimentary glass of fine wine. Comes with an outdoor buffet and participating in interesting activities.
HALLOWEEN FESTIVAL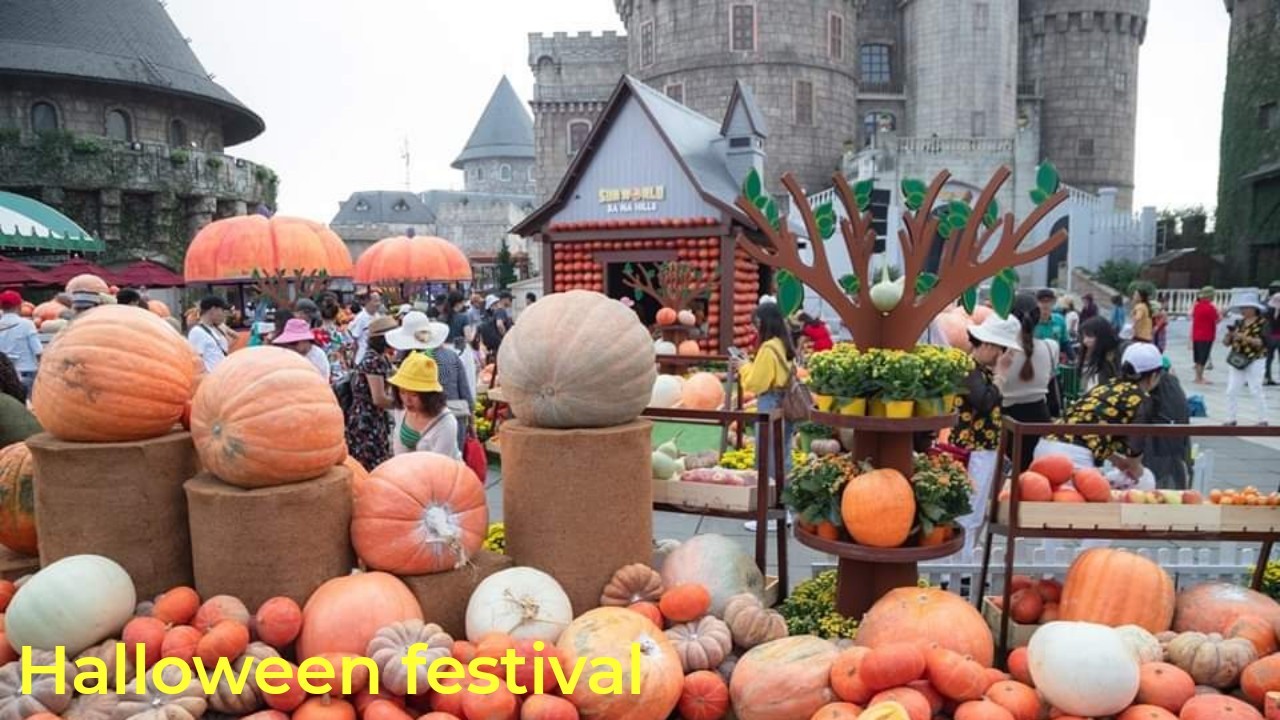 One of the most eagerly awaited holidays of the year, Halloween also draws the most tourists to Ba Na Hill. The Ba Na area transforms from the end of September to the beginning of October with miniatures reenacting fairy tales from all around the world, including Little Red Riding Hood, Cinderella, Aladin…
SOME RESTAURANTS IN BA NA HILL DA NANG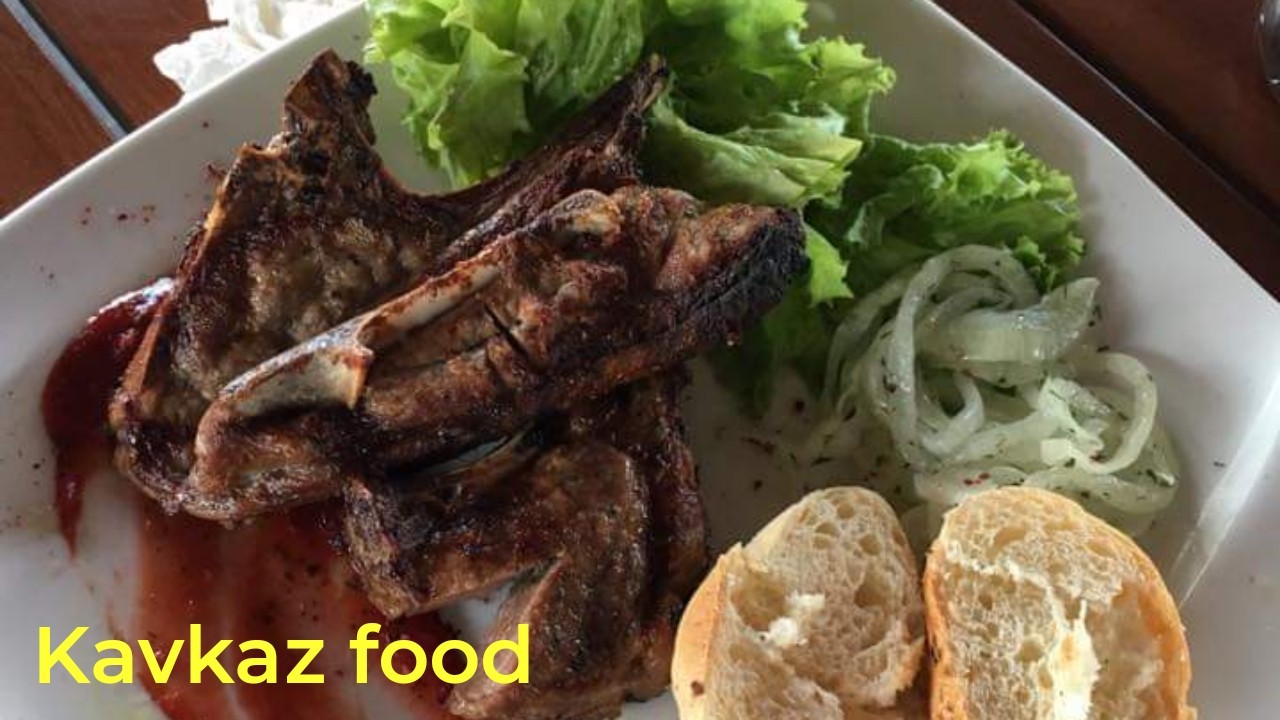 MORIN RESTAURANT:
serve Vietnamese and Western cuisine
KAVKAZ RESTAURANT:
serve Western food in Du Dume Square
BEER PLAZA RESTAURANT:
serve Vietnamese, Western, Chinese, Japanese, Thai in Du Dome in French village
HOI AN BA NA RESTAURANT:
serve the local dishes at the foot of Ba Na Hills
HOA LAN RESTAURANT:
serve Vietnamese food, Western, American, Japanese and Korean food near Aparang restaurant.
SOME EXPERIENCE TO TRAVEL BA NA HILL DA NANG?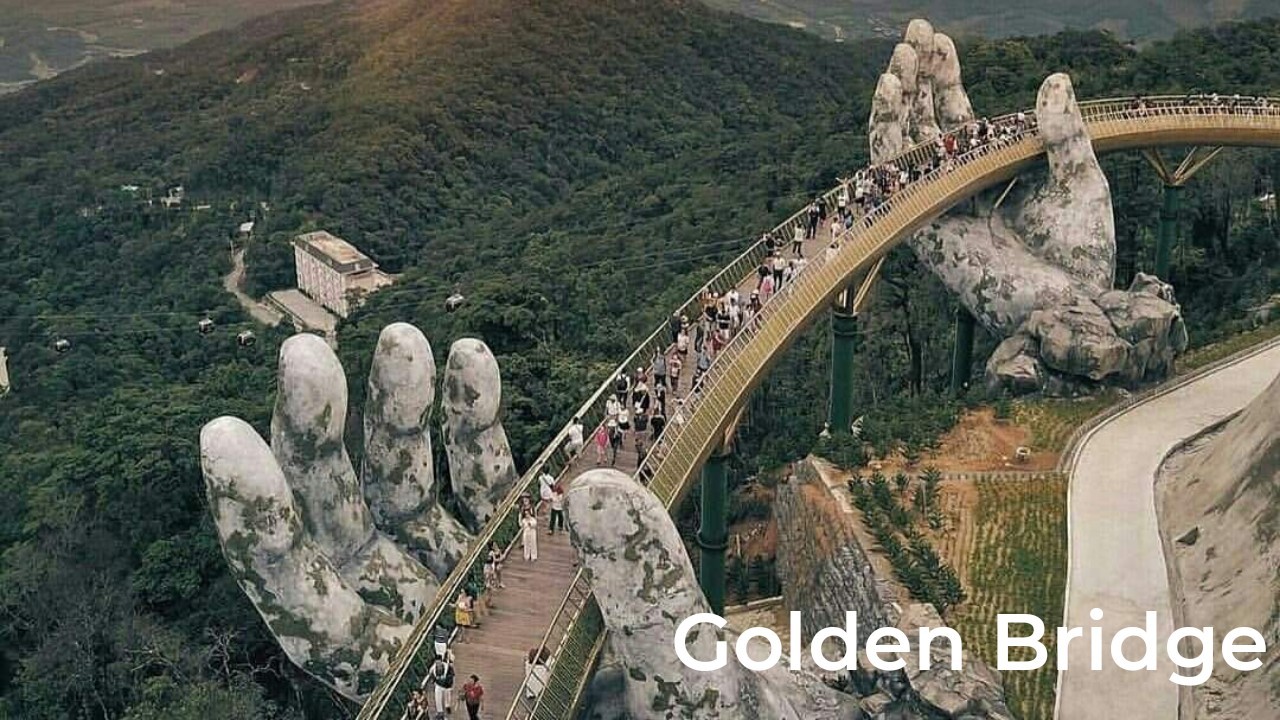 BEST TIME TO VISIT:
The best time to visit Ba Na Hill Da Nang is from March till the end of July. At this time, it's sunny but not so hot; Ba Na hills on top of the mountain so it got very cool weather even in the summer.
HOW TO GET BA NA HILL FROM DA NANG CITY?
If you come to Da Nang city and stay at a hotel, you can hire a motorbike to get there. If you do not prefer this mode of transport, let's book Grab or Taxi for the best convenience. And the last option, you can book private tour with a travel agent in Da Nang.
CHECK WEATHER:
To have the best experience of Ba Na Hill Da Nang, you should check the time to go and the weather condition at the time you want to travel to Da Nang. So, if you travel between September and February, let's bring rain coats, cold jackets with you and the weather conditions are not so good to have beautiful pictures if you may encounter cold spell or storms…
PERSONAL PAPER:
Let's bring the identified card (ID) with you or passport and driving license in case you want to hire a motorbike to go to Ba Na Hills.
CLOTHES:
Travelling to Ba Na Hill Da Nang between March and July, you can just wear short clothes, light ones and bring with you hats/caps, sun glasses, sun lotion, sport shoes as you will walk a lot. On the other hand, you can bring rain coats, cold jackets if travelling here between September and February.
THE BEST TRAVEL AGENT IN DA NANG CITY TO BOOK BA NA HILLS TOUR?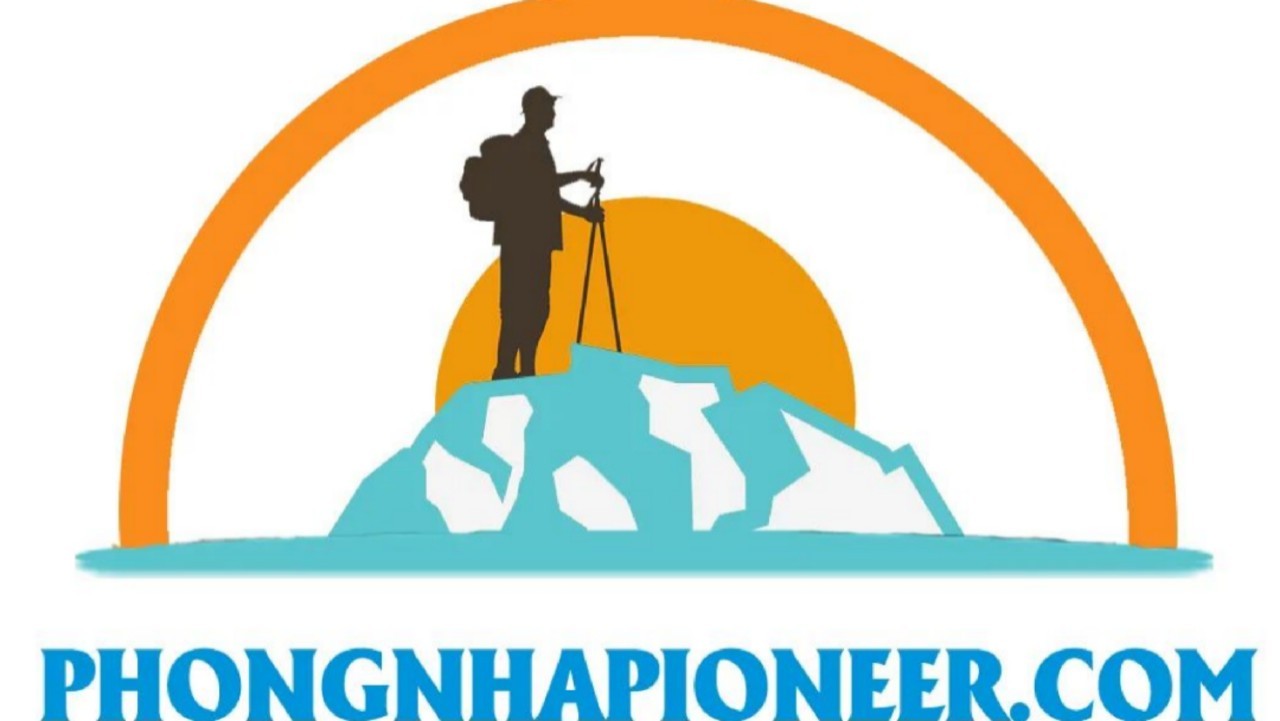 So, if you come to Da nang city, Vietnam's most liveable city and would like to find The Best Travel Agent, do not hesitate to contact us:
Phong Nha Pioneer Travel (a member of Premium Travel Vietnam Co., Ltd)
International Tour Operator License No: 48-281/2022/TCDL – GPLHQT
213 Chinh Huu street, Phuoc My ward, Son Tra district, Da Nang city
Website: https://phongnhapioneer.com/
Email: phongnhapioneer@gmail.com
Whatsapp at 0084 979613777 (Mr. Viet – Travel Manager)